Ever wondered why we love Thanksgiving so much? It has to be the leftovers. Let's face it, on any other day, a turkey sandwich is nothing to get excited about. But the day after Thanksgiving, it's sublime.

Like Thanksgiving turkey, content is more delicious when served in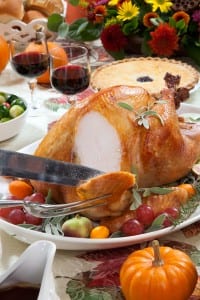 small portions the next day. Traditionally when creating content, we start with smaller pieces (a blog post or newsletter) that we hope to someday string into something larger (an e-book or white paper). It's a little like throwing left overs into a pot hoping they make a stew. Sometimes it comes together and sometimes you end up ordering pizza.

Treat your content like a Thanksgiving turkey instead. Create the larger piece first hand, then carve it into smaller, bite sized pieces. I'm amazed how much content can be generated from a short e-book—blog posts, newsletter articles and infographics—all of which can be broken into smaller pieces and shared on social media.
–Jasmine Holmes, 910 West
Check out the latest news from our friends at 910 West.
Related posts from TDZ: