for Internet Marketing Firms, Creative Agencies, Boutiques, Web Dev Cos, Independent Consultants, & Freelancers (whew!)
Let's be honest: For all of our creating differences, small marketing & PR agencies usually do the same (or complementary) things.  So choosing collaboration over competition should be a no-brainer, right?
We can't be bothered with egos when there's important client work to be done. This means making the right arrangements behind-the-scenes so that everyone wins.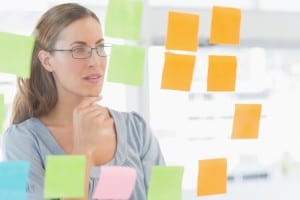 Here's something else you might find refreshing. We don't have prior agency experience. Zip, nada, none. We come from in-house, client-side, and too dang small or too scrappy to hire marketing and public relations agencies.  The result? No bad blood, no cliques. We're laser-focused expectations management and insight.
If you are a small agency, specialized branding or web dev shop, or even a talented indie such as a web developer or graphic designer, we can work with you in the following ways:
Strategic Partnership
You've got skills, we've got skills.  If you want an equal partner to sit at the table with you and help you with strategic and tactical execution for your clients, let's talk. Strategic partnerships are not formed overnight; we have to fit with each other's values. Ideally, we have plenty of time to understand and negotiate the roles, rights, and responsibilities as well as develop a relationship before rolling up our sleeves and getting to work. "Go slow to go fast" are words we live by. We have an established process to guide strategic partnership discussions. This means we can also advise you as a consultant if you are considering a strategic partnership with another agency or company.
Bottom line: Side-by-side or handoff, we want to help you maintain client success.  
 Subcontractor
To some, subcontracting is an ugly word but it doesn't have to be. As long as the respect and appreciation is there, we don't mind working behind-the-scenes to make you shine.  In fact, we take pride in helping to make others successful. We know you need margins too so we like to have open discussions about your expectations for markup as well as overall budget.
Bottom line: Whether it's outsourced project management to help you say YES to more clients or content/brand services to help you serve a broader base of clients (or focus on your core business), we've got your back. 
Referral
Referrals are great to give and get.  Sometimes we meet prospects who aren't a great fit or the timing isn't right but we'd still like to help them out.  If we know who you're looking to work with and what you're great at, we can send contacts your way.  We also recognize due to bandwidth or fit, you may have referrals for us.  Let's have some conversations to discuss our ideal clients. We are quite picky about who we work with in terms of psychographics and we want to respect your parameters as well.
Bottom line: Getting to know each other and caring about who makes good referrals helps us all–and is just plain nice. 
Friendly Face
We network in our own special way and we like to learn. We might see you around all the marketing professional development events in Phoenix so why not connect with us now? And keep us posted on your activities so we can plan for some actual friendly-face-time!
Bottom line: Business is more fun with friends. 
***
"Throughout our years of working together, TDA has been one of our most reliable and trusted marketing partners, never missing a deadline or a budget and ensuring that the customers we share are always happy, communicated with, and professionally serviced from start-to-finish." –Agency owner
***
Questions about our agency solutions? Shoot us an email or just tweet.