In my earlier post Firing Customers: Why and How,  I referenced Collapse of Distinction: Stand Out and Move Up While Your Competition Fails. This is a book by Scott McKain and although I haven't read it yet, he has published an informative article on MarketingProfs.com: Why You Should Fire (Some of)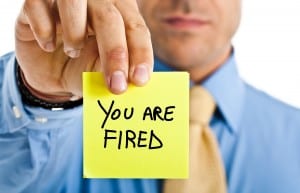 Your Customers.  Herein, he recommends who to keep and who to discard by category (very helpful!) and  smartly states: "We spend more time than we really have to give pleasing a customer we never should have solicited in the first place." (Emphasis mine.)
This last bit by Mr. McKain leads me to the crux of this post: Better screening.  I admit that I have fallen victim to a big name, a glowing referral from a colleague, and a market underdog with potential (if only they'd been open to change), but I am trying—and encouraging my marketing strategy clients to try—to do a better job of what I call "selective engagement."
With a little process development and strategic thinking, small businesses can establish criteria for selectively engaging clients who are well-suited to their business models and financial goals. This includes ideal client persona development as well as the means to attract them and the process of identifying them.  With this type of planning and supporting processes in place, you can prevent the firing mentality or  "culling phase" and instead be more exclusive with building your client base upfront.  Yes, this takes great effort, bravery, and budget, but given the alternative—having to gracefully back out of an engagement—it might just be worth it.
Today I came across an excellent example from a marketing person I respect, Allan Starr. In his Marketing Monthly newsletter,  he states his criteria, including this specific requirement, "If a client doesn't at least believe they are better than their competitors, we don't take them on (we are opportunity agents, not turnaround artists)."  Starr makes a bold statement about what his company does and what they need from potential clients, which will allow prospects to identify or walk away.  (Bravo Marketing Partners, and feel free to refer those who need more confidence to us. Agencies have different criteria, after all, and we like to connect with fellow service providers.)
As many marketing colleagues acknowledge, it can be hard to walk away from prospective business, especially when you know you can help them and see how much they need help—and given this economy. But you will SPEND more money in terms of  time and energy trying to please them than you will MAKE.
Not only should small businesses have a defined process in place (as well as the means to communicate that to the market), they should also seek to improve upon it.  I have a process for lead qualification, but it is constantly being refined based on experience.  Practicing continuous improvement is key, not only in manufacturing but also in your sales cycle.  I advise clients to create and refine their lead generation and client acquisition strategies (as well as client education efforts).   In my experience, it is easier to do this for others than to do it for one's self—due to perspective-taking abilities, the need for thick skin, and the ever-illusive time for working on the business as opposed to delivering client results.
Here's another supporting tidbit from the 1to1 Media Blog which asks the question "When Is It OK to Fire Your Customers?"  Ginger Conlon notes, "Others say: Don't acquire potentially unprofitable customers in the first place." That's what TDZ helps micro and small service businesses do—with the process and tools to support such a customer acquisition strategy.
(Note: Originally published on 3/2/10 here.)